Submitted by

michael.heinrich

on Fri, 06/03/2022 - 09:51
Newsletter 06-02/2022
Visit us at Techtextil, Frankfurt 2022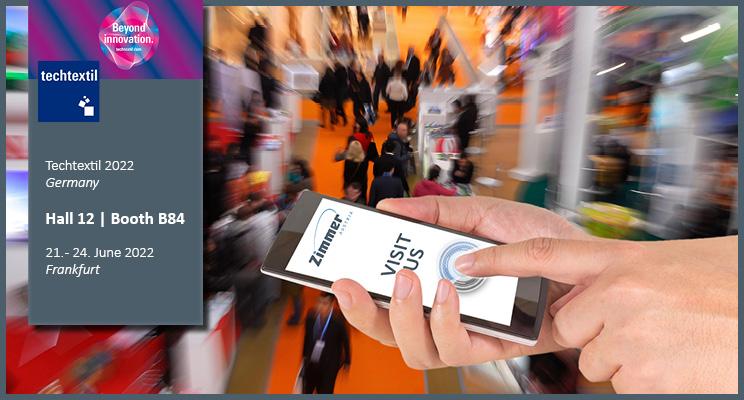 ZIMMER AUSTRIA Digital Printing Systems
the competent partner for digital printing on fiber-based substrates.
Among our five business segments – Textile Prints, Floor Coverings, Narrow Fabrics, Technical Textiles, and Special Solutions - we offer a wide range of digital printing solutions.
As a highlight at Techtextil 2022 fair, ZIMMER AUSTRIA will present the COLARIS-NF single pass, narrow fabric printer with life demonstration during exhibition hours.
Additionally, we will present a solution for digital military camouflage prints incl. IR-reflectance control. A truly innovative solution, perfectly matching requirements of military and paramilitary forces around the globe. Camouflage printing is not about existing patterns being reproduced digitally from traditional screen printing – digital camouflage printing can offer so much more.
Another recent development is a COLARIS digital inkjet print line for printing wool and polyamide moquette fabrics used for furnishing public transport vehicles such as buses, subways, trains, cable cars, aircrafts and cruise ships. The COLARIS Transport Fabric inkjet printer offers an all-inline printing and finishing solution from white to ready-for-use moquette substrate, matching all fastness requirements of transport vehicles.
Further we will showcase heavy woven carpet rugs printed with COLARIS carpet printer. Blanket, towel, and upholstery print solutions can also be discussed. We have plenty of samples produced with COLARIS Digital Printing Systems on display. In addition, we will exhibit various technical textiles printed and finished with COLARIS or CHROMOJET digital application systems.
ZIMMER AUSTRIA Screen Printing & Coating Systems
at the Klagenfurt (Austria) plant we operate a technology competence center for coating, screen printing and finishing systems with decades of experience. We offer tailor-made solutions of perfectly designed coating lines that empower clients to produce outstanding results with minimal energy consumption.
ZIMMER AUSTRIA's MAGNOROLL is a multi-purpose Coating Machine for Coating, Printing, Finishing on Textiles, Technical Textiles, Glass Fiber, Nonwoven and Paper. The versatility of the MAGNOROLL multipurpose coating platform draws much interest across industries. MAGNOROLL coating machines are available in different executions and are available in working widths from 500 to 5200 mm. MAGNOROLL coating machines and complete coating lines can be used for universal applications with liquid, paste and foam on textiles, technical textiles, glass fiber, paper, film and other innovative materials. MAGNOROLL is the only true multi-purpose coating machine in the market.
Our team at site will be pleased to discuss any of your interest or needs for digital printing, screen printing, steaming, drying, coating, and finishing machinery!